Java 5 Update 22
Mozilla Firefox:
1. Users will be prompted that " No Java Runtime is installed on your system"(shown below)
2. There will be another prompt below the screen stating "The 'SSVHelper Class' add-on from 'Sun Microsystems, Inc' is ready for use." . Click on the Enable button to allow Java to load
3. Users will continue to see the " No Java Runtime is installed" prompt but Market-Q will allow them to login successfully and load their workspace at every new login attempt.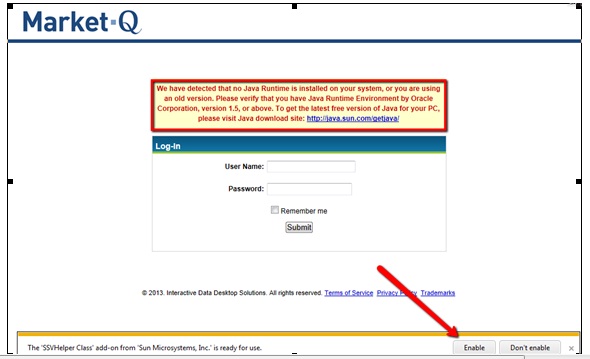 Google Chrome
Users will be prompted that " No Java Runtime is installed on your system" also
Just select the "OK" button and login as usual. The prompt will display at every new login attempt until Java is upgraded
Internet Explorer
Users will be prompted that " No Java Runtime is installed on your system"
Just select the "OK" button and login as usual. The prompt will display at every new login attempt until Java is upgraded