faq - how do you hide a title bar for a window?


title bars are the menus that identify the type window option. by default, title bars are shown on the windows in the page. to hide the title bar, left-click on view and left-click on hide titlebars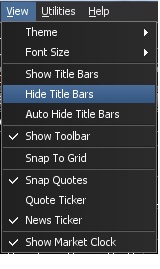 you can also go to the window and right click on the empty space in the title bar or click on the down arrow in the title bar. left-click show titlebar to uncheck the feature and hide the titlebars.