Flags

The
Flags Column
was created to alert the user of any news story or corporate action on a given symbol.
Each position will be tool-tipped, identifying the meaning: (mouse over the indicator to see the meaning)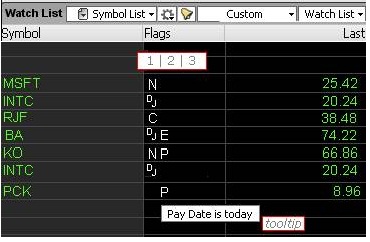 column 1 = news
default: turned on
D/J = Dow Jones News.
N = General News
C = Canadian News


Column 2= Corporate Actions (Dividend / Earnings / Splits)
Default: turned on
A = Announce Date is today
P = Pay Date is today
R = Record Date is today
X = XDivDate is today
E= Earnings announced
Column 3 = Proprietary News
Default: turned off
This column is a placeholder for the use of proprietary or customer supplied news.
when you see '*' in flags that mean that you have two flags in same field. if you put your mouse over '*' you will see tool-tip.
placeholder * is added in flags field when there are multiple corporate actions indicators for a symbol



conditions flags
- the following special conditions will appear as text next to a symbol in any window that displays quote information (detail quote window, watchlist, etc.) whenever these conditions occur: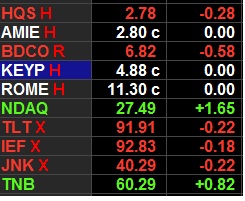 nasdaq filing status codes;
default(s): yellow text; turned off
financial status indicator (nasdaq symbols only)
d - deficient: issuer failed to meet nasdaq continued listing requirements
e - delinquent: issuer missed regulatory filing deadline
q - bankrupt: issuer has filed for bankruptcy
g - deficient and bankrupt
h - deficient and delinquent
j - delinquent and bankrupt
k - deficient, delinquent, and bankrupt\
trade conditions
: (
red letter
)
note: the following codes can not be turned off

| | |
| --- | --- |
| Text Flag | Description |
| R | Special restrictions govern trades on this issue. |
| H | Trading has been halted on this issue |
| X | Symbol has gone X-Dividend |
| F | Fast Market Indicator (For selected Futures markets) |
Red "R" Next to Symbol

What does the "R" next to Nasdaq symbols mean?
The SEC and Nasdaq require that all data providers tag certain stocks as restricted with a letter "R" to indicate there is a "Short sale restriction" in place for the stock.

What is Regulation SHO? Regulation SHO provides a regulatory framework governing short selling of securities. Regulation SHO is designed, in part, to fulfill several objectives, including (1) establish uniform locate and delivery requirements in order to address problems associated with failures to deliver, including potentially abusive "naked" short selling (i.e., selling short without having borrowed the securities to make delivery); (2) create uniform marking requirements for sales of all equity securities; and (3) establish a procedure to temporarily suspend Commission and SRO short sale price tests in order to evaluate the overall effectiveness and necessity of such restrictions.

What securities qualify for this short sale restriction? There are 2 methods for determining what symbols qualify for this short sale restriction.

Method 1 is an amendment (Rule 201 - AKA the alternative uptick rule) that introduces a circuit breaker rule that goes into effect when the trading center declares that a stock has decreased 10% or more from the prior day's closing price.

Method 2 is defined in Rule 203(c)(6) of Regulation SHO - A "threshold security" is any equity security of any issuer that is registered under Section 12 of the Exchange Act or that is required to file reports under Section 15(d) of the Exchange Act (commonly referred to as reporting securities), where, for five consecutive settlement days:


There are aggregate fails to deliver at a registered clearing agency of 10,000 shares or more per security;
The level of fails is equal to at least one-half of one percent of the issuer's total shares outstanding; and
The security is included on a list published by a self-regulatory organization (SRO).

A security ceases to be a threshold security if it does not exceed the specified level of fails for five consecutive settlement days.



For detailed information, please visit the SEC's website at:
http://www.sec.gov/spotlight/keyregshoissues.htm

(Source: www.Nasdaqtrader.com)



How long will the "R" stay on the quote window?


The Nasdaq Stock Market, in cooperation with the National Securities Clearing Corporation, publishes a daily list of restricted securities:

https://www.nasdaqtrader.com/aspx/regsho.aspx


clearing of flags:
• nasdaq codes are changed only when changes are received or are removed by nasdaq
• all other codes are day specific and are cleared nightly just after midnight.

note: to turn on and off flag (depending on if you are in a detail quote window or watchlist window)

1. right-click and scroll down the list until you fine properties.
2. left-click on properties and then click on the secton for flags.